Testimonials from Carpet One customers like you.
I am happy to express my complete satisfaction with the entire process of the purchase and installation of the flooring in my new build.


Building a home is exciting and stressful. Many of the vendors I had to deal with were less than helpful and made me feel like they did not have time to guide me through the decisions. But dealing with Carpet One and Joel was a lesson in outstanding customer service. (I know these things…I am an account manager for an insurance agency.) From my first call with Joel to the call I got from Jamie after installation, I felt like you held my hand the entire time. Joel had the product I wanted, he made it easy for me to make a selection, the price was unbeatable, and he kept me updated and informed during the entire process. Jamie called me twice during installation (I was working and could not meet him there and he wanted to make sure I was happy with the installation and to make sure the heat was kept on for the glue to dry.) And Joel called me twice afterwards to make sure I was satisfied. Joel, Jamie and Carpet One have exceeded my expectations throughout the entire process.

Joel…during times when products are unavailable, workers are undependable, deliveries are delayed, and service is not high on anyone's list, you have run circles around your competition and building suppliers in general. I would give you and Carpet One my highest recommendation.

Thank you so much for helping me make the one decision I did not second guess!
- Carol M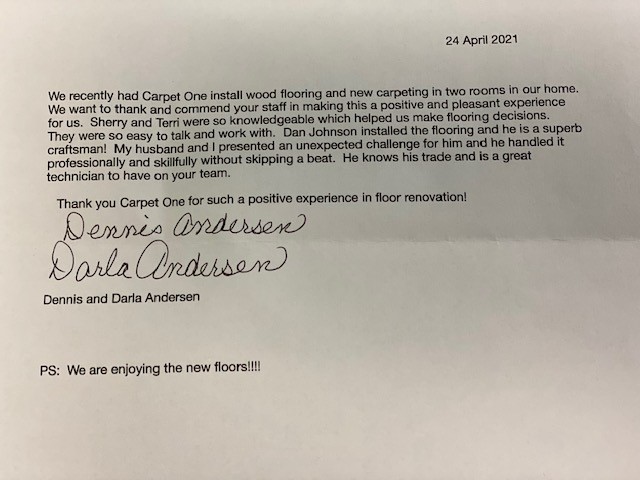 Professional
When looking for estimates and the type of flooring, Mr. Joel Bevis was very prompt / professional in the way he listens to get an understanding on what I wanted! Mr. Bevis provided a prompt estimate and dates of the deliveries and installation with the names of the delivery individual as well as the names of the installers. During installation and after the installation Mr. Bevis performed follow ups to include after installation follow ups. The installers (Dennis and his Son) were timely and did a Fantastic Job! -Charles R.
Great Customer Service
Great customer service, Kathy was very professional, friendly and helpful. She spent time with us and answered all our questions. The young men who installed our carpet were friendly, very nice, polite, and very professional installers who did a great job. And everything was done in a timely manner. Carpet and installation was very reasonably priced. I highly recommend Carpet One. -Tommy and Faye Fly
Appreciation
It is with great gratitude and appreciation that we write to you concerning the dealings we had recently with Carpet One Huntsville. The carpet we chose was beautiful and one of their best. However, after the carpet was installed, three of the seams stood out like "sore thumbs". Needless to say, we were in the panic mode. Could we count on Carpet One to "fix" this situation or were we stuck? We contacted Carpet One. They stood behind us with their warranty and were with us every step of the way. EVERY staff person at Carpet One went overboard with kindness to help us with this situation and to get it corrected. We would especially like to thank our salesman, Carl and Shawn the installation manager. Finally, you do not find many companies like Carpet One in our culture today. They are a AAA company, and we will be recommending them to everyone. — Don and Diane Cox
Kitchen Granite
I am so pleased & happy with my new granite kitchen counter tops. They are an investment I have looked forward to for 11 years. I am so happy with the results & give the credit to Danny Libera. He is a true artist & I am so glad he was available for my granite cutting, polishing & installation. I truly believe he is the best & will recommend him highly. He is a true professional in customer relations & beauty of work. Thank you for making me so happy. — Lori Jones

Extremely Pleased
I am extremely pleased with all the different steps taken during the installation and Very pleased with the outcome. The installers were courteous, answered questions, did the job fast but great! Thank you Chad, Mike and company. — Kimberly Thomas
The best carpet!
Thank you for the very cozy carpet. You have the BEST carpets ever! — Ella
Thank you for the rug!
Thank you for the rug. Even though I don't know you, our whole entire class loves it. Here are some reasons why I like it: I don't like to sit on hard floor, we get to do our math on it, AND it's soft and comfortable. I really appreciate it. Be sure to tell me who you are! Thank you! — Jeremey

You did something good!
Dear Carpet One, Thank you so much for donating the rug you gave to our teacher. If today's work is stressing you out, remember you did something good to help children learn math better. Thanks again! — Abby
All our flooring needs in one location.
We want to thank you for recommending Carpet One and Matt Morris for the flooring for our new home. We didn't know who we were going to get to do all of our flooring. We thought we would have to go to several different places to get different types of flooring. That would have been very time consuming. We took your advice and went to meet Matt. He is a wonderful guy, and he was able to do all of the flooring in our house and the blinds for some of the windows. They also did the stone work around the fireplace, and they stained and finished the front and side doors, the balcony doors, and the mantle for the fireplace. The guys who worked on everything did quality work, and we are happy with their work. They made a pitiful mess into a home. Thank you so very, very much for telling us about Matt Morris and Carpet One. We have been telling other people about our pleasant experience. If you are interested in seeing our home, let us know. — Richard & Judy Rinkel